The Palliative Performance Scale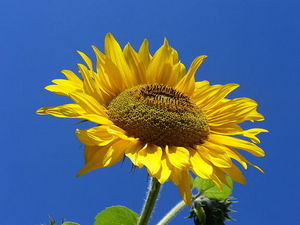 The Palliative Performance Scale (PPS) is a valid, reliable functional assessment tool developed by
Victoria Hospice
that is based on the Karnofsky Performance Scale (
KPS
)
[3]
and is incorporated into the collaborative care plans in the Palliative Care Integration Project that began in Kingston.  This tool provides a framework for measuring progressive decline in palliative patients.
In the PPS[4], physical performance is measured in 10% decremental levels from fully ambulatory and healthy (100%) to death (0%).  These levels are further differentiated by five observable parameters:
the degree of ambulation

ability to do activities/extent of disease

ability to do self care

food/fluid intake

level of consciousness
"Stronger" performance indicators are located on the left, and "softer" ones on the right.  In determining the patient's PPS then, we would first find the level that fits with the patient's ambulation level.  From that we would work across the  scale keeping in mind that the leftward indicators have more value than those on the right.  We can not choose between levels (e.g. 45%).  Simply make your best assessment to determine the PPS.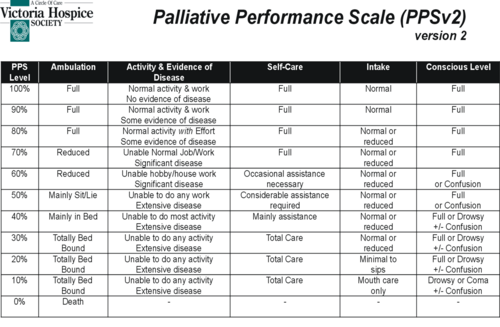 PPS Stages
The PPS can also be broken into three stages: 
Stable

Transitional

End-of-Life.

 
 

PPS

Special Concerns

 Stable

100-70%

 - patient/family need for hope/understanding of disease

 - patient/family education re:  disease management, medications, personal care, nutrition, symptom crisis/distress management plan

 - referrals to optimized functioning - CCAC, physio/OT, dietitian, etc.

 - psychosocial assessment

 - spiritual assessment - cultural/religious resources

 Transitional

60-40%

 - most difficult for patients - impacts on all spheres of life (need for holisitic, patient and family-centred care)

 - requires greatest amount of nursing care

 - increasing care and educational needs [5]

 End-of-Life

<30%

 - review medications/routes of administration, need for further investigations/lab tests/ clinic visits

 - determine main contact in the community - family physician, homecare, palliative care physician

 - pain/symptom management

 - prepare family for death - what do they expect, what are their past experiences with death

 - ensure affairs are in order - e.g. POA, wills, custody arrangements for children, etc.
Transitional stage needs:
coordination of care and services

establishment and maintenance of support systems

education of care givers

symptom management

end of life planning[5]
During the Transitional stage, we must consider the psychological, social and economic as well as the physical changes a patient experiences in order to provide holistic, patient and family centred care.  Transition is said to be a challenge to a patients' self-identity.  It is therefore, imperative that healthcare professionals have an understanding of the transition process in order to assist patients and their families to move through it.  [1] 
_________________________________
1. Kralik, D., Visentin, K., & van Loon, A. (2006). Transition: a literature review. Journal of Advanced Nursing, 55(3), 320-329.
3. For more information about the KPS: http://www.acsu.buffalo.edu/~drstall/karnofsky.html http://www.hospicepatients.org/karnofsky.html http://palliative.info/pages/karnofsky.htm
4. Palliative Performance Scale (PPSv2). Medical Care of the Dying, 4th ed.;p.120. copyright Victoria Hospice Society, 2006. http://www.victoriahospice.org/ed_publications.html accessed January 8, 2008
5. Anderson, F., Downing, G.M., Hill, J., Casorso, L., & Lerch, N. (1996). Palliative Performance Scale (PPS): A new tool. Journal of Palliative Care, 12(1), 5-11.